SERENITY NOW!
When travel is difficult, risky, or impossible, or going away on a retreat is not in the budget, this book is your inner travel companion.
DIY Retreats is chock full of tips, tricks, and ideas to help you create your own self-styled retreat, whatever it is you need some quality self-care time for. Learn how to find the right space in your home, or in a nearby location, and how to personalize it to make it special. Get some ideas for retreat topics and learn how to prepare your mind and body for retreating. There are also tips and ideas for creating your own small group retreat, in person or online.
---
Like lamb stew for the annoyed soul!

You are more than the sum of that which annoys you. You are human, and that's just Divine!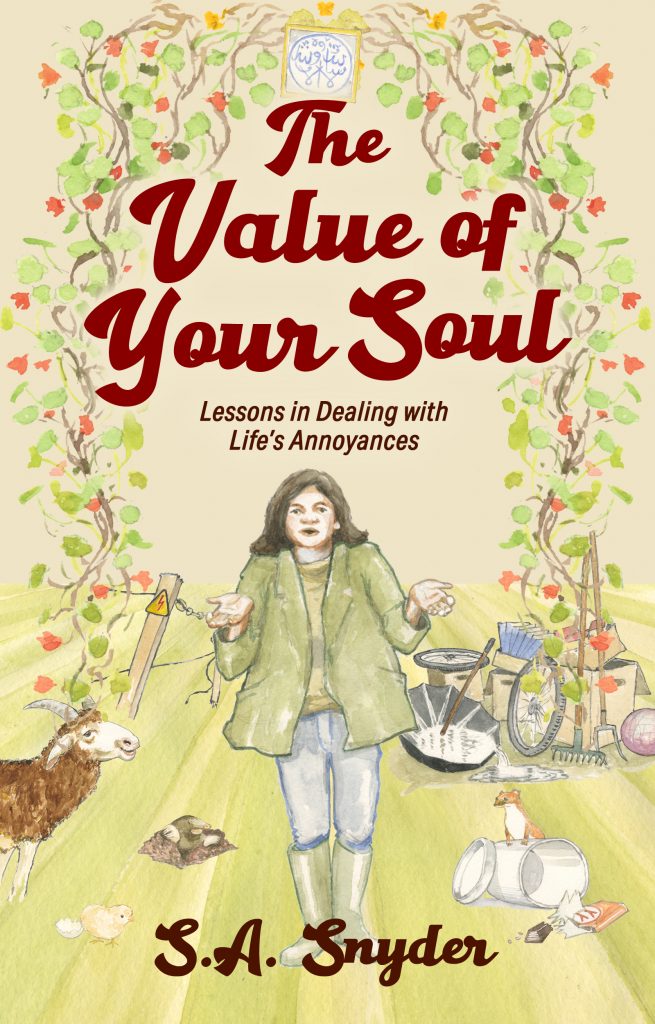 Drawing from her 2019 memoir of living at a spiritual retreat in Scotland, S. A. Snyder's book, features 38 peculiar "annoyances," each with conventional translations that most of us can relate to. With the help of select verses from the Persian poet Jalal ad-Din Rumi, Snyder teases out some lessons learned from her experiences and offers a soupçon of homespun wisdom for coping with people, circumstances, and life. Her witty style and unique experiences combine to make this a fun, light read with a reminder not to take life too seriously. If you enjoy chicken soup stories, you'll laugh at Snyder's quirky approach to self-improvement.
Note: The first edition of this book was released with the subtitle, "Rumi Verse for Life's Annoying Moments." This second edition is the same book with a different subtitle.
Book Reviews
"It is rare to happen upon beautiful thoughts so beautifully expressed, but S. A. Snyder's book, The Value of Your Soul is just such a treasure. How fortunate that her journey can contribute so richly to our own."
~ Philip Gulley, author and Quaker pastor
"Sometimes you're given what you need, not what you think you want." What gives power to these words is the very story of Snyder's day-to-day experiences at the Braemar retreat and how Rumi's lines help her navigate through the uncertain, unexpected, and yes, the annoying! Snyder's engaging style makes the book a pleasant read on the borderlines of our contemporary lives and Rumi's ecstatic orbit.
~ Ibrahim Anli, President of the Rumi Forum, Washington, D.C.
"This is an exceedingly charming volume, as beautiful as it is important. Snyder intertwines an original, obliquely-angled re-vision of passages from Rumi's poetry and prose with an intriguing memoir into a resplendent tapestry. Both the 13th-century mystic and the 21st-century searcher bridge the personal to the universal in compelling ways. The threads of wisdom, passion and humor would be more than sufficient, but the charming illustrations that introduce every chapter add a further, visual dimension to the reader's delighted experience."
~ Ori Z. Soltes, professor of theology, philosophy, and art history at Georgetown University and author of Mysticism in Judaism, Christianity, and Islam: Searching for Oneness

---
S.A. Snyder's Memoir
Sarah's life isn't a mess; it's just… boring. No career. No romantic prospects. No sign that God even cares. She leaves home in Montana for Scotland to volunteer at a spiritual retreat, a diminutive and humbler version of Downton Abbey, except everyone is a servant. Sarah soon discovers that not only is she expected to plant 6,000 trees, but also manage flocks of poultry, a band of truant sheep, and a one-acre vegetable garden, AND help with housekeeping and cooking to support the communal residents. She tries to give the Beloved a second chance at Braemar, but God is starting to get on her nerves. How can overwhelming chores, odd spiritual teachings and rituals, and a troubled romantic entanglement with her "boss" help fix her soul? Read the memoir to find out!
Book Review
Two factors make this memoir fascinating: its witty, inspirational voice and its sensory richness. It might be heralded in the future as one of the best memoirs of the twenty-first century. It is inspiring and humorous in form and profound in content. As we become exposed to the vulnerabilities of S.A. Snyder, Plant Trees, Carry Sheep achieves a majestic narrative grandeur of its own. Another great quality of this book is the effective word choices that really deliver clear, coherent sentences. It cuts out the fluff and every paragraph addresses fascinating truths with such brevity. You will
feel inspired to pack your bags to visit Scotland for a spiritual retreat after gaining insights from this beautiful memoir.
~ Vincent Dublado, Readers' Favorite