Coming Spring 2021!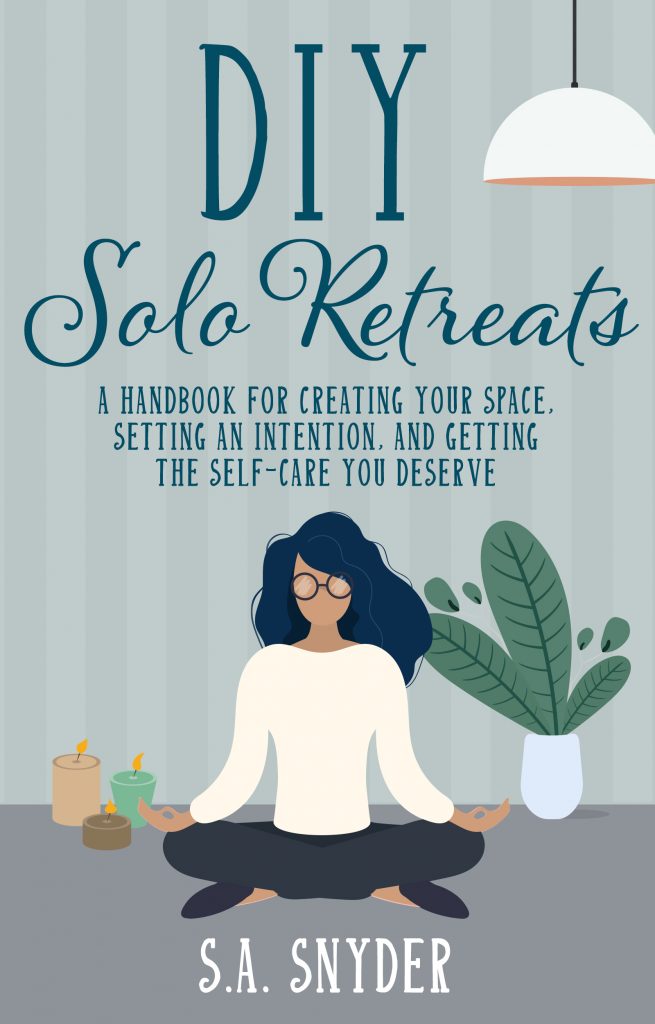 When travel is difficult, risky, or impossible, or going away on a retreat is not in the budget, this book is your inner travel companion.
DIY Retreats is chock full of tips, tricks, and ideas to help you create your own self-styled retreat, whatever it is you need some quality self-care time for. Learn how to find the right space in your home, or in a nearby location, and how to personalize it to make it special. Get some ideas for retreat topics and learn how to prepare your mind and body for retreating. There are also tips and ideas for creating your own small group retreat, in person or online.
---
Like lamb stew for the annoyed soul!

You are more than the sum of that which annoys you. You are human, and that's just Divine!
Drawing from her 2019 memoir of living at a spiritual retreat in Scotland, S. A. Snyder's book, features 38 peculiar "annoyances," each with conventional translations that most of us can relate to. With the help of select verses from the Persian poet Jalal ad-Din Rumi, Snyder teases out some lessons learned from her experiences and offers a soupçon of homespun wisdom for coping with people, circumstances, and life. Her witty style and unique experiences combine to make this a fun, light read with a reminder not to take life too seriously. If you enjoy chicken soup stories, you'll laugh at Snyder's quirky approach to self-improvement.
Book Reviews
NetGalley readers, review this book!
"It is rare to happen upon beautiful thoughts so beautifully expressed, but S. A. Snyder's book, The Value of Your Soul is just such a treasure. How fortunate that her journey can contribute so richly to our own."
– Philip Gulley, author and Quaker pastor
"Sometimes you're given what you need, not what you think you want." What gives power to these words is the very story of Snyder's day-to-day experiences at the Braemar retreat and how Rumi's lines help her navigate through the uncertain, unexpected, and yes, the annoying! Snyder's engaging style makes the book a pleasant read on the borderlines of our contemporary lives and Rumi's ecstatic orbit.
– Ibrahim Anli, President of the Rumi Forum, Washington, D.C.
"This is an exceedingly charming volume, as beautiful as it is important. Snyder intertwines an original, obliquely-angled re-vision of passages from Rumi's poetry and prose with an intriguing memoir into a resplendent tapestry. Both the 13th-century mystic and the 21st-century searcher bridge the personal to the universal in compelling ways. The threads of wisdom, passion and humor would be more than sufficient, but the charming illustrations that introduce every chapter add a further, visual dimension to the reader's delighted experience."
– Ori Z. Soltes, professor of theology, philosophy, and art history at Georgetown University and author of Mysticism in Judaism, Christianity, and Islam: Searching for Oneness

---
S.A. Snyder's Memoir
A beautifully written tale of one woman's life-enhancing experience struggling with some extremely difficult tasks, weather, animals, fellow humans, romance, world view, fears, and faith, this memoir enhanced my life while entertaining me in an easy chair.
–Amazon Reviewer
Customer Reviews
This is a wonderful story…a book that is both insightful and uplifting.
–Amazon.co.uk Reviewer
I LOVED this book! The author did an excellent job of transporting me to Scotland! Her descriptions were spot on and I felt like I was there myself. Her ability to balance humor with seriousness was refreshing. I found myself giggling as she described her challenges with life at a Scottish retreat…two-legged and 4-legged alike.
–Amazon.com Reviewer
In each chapter, you'll feel like you are walking by Sarah's side into the crazy unknown (a Scottish Sufi retreat? heck yeah! far from home in an unknown land? let's go!), but around each corner you'll find her steps perfectly laid out by God to find peace, kindness, and love instead of the fears that we awfulize about.
–Amazon.com Reviewer
What a fun read! Beautifully written, part memoir, part travel log, part love story, part spiritual awakening, there is truly something for everyone here. I found this such an enjoyable book – Sarah's prose effortlessly carries the reader along with her on this adventure story of self-discovery. Best of all, it's so funny!
–Amazon.com Reviewer
This book was written from the heart…a great read.
–Amazon.co.uk Reviewer